Alumni Connections
a monthly e-newsletter
Men and Women Serving Others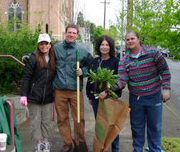 Alumni from Portland, Oregon, volunteered at a local Jesuit high school for their Day of Service.
Building on the success of last year's inaugural BC Alumni National Day of Service, 17 alumni chapters from across the country heeded the call to be "men and women for others," by participating in the second annual Day of Service on April 21, 2007.
From Connecticut to California, alumni from across the country served on volunteer projects to help their local communities. A group of alumni in Portland, Oregon, volunteered at a local Jesuit high school, St. Andrew's Nativity School, to work together with students to improve the facility through clean-up and gardening.
"We see this as a great way to help students feel a sense of pride when they come to school, knowing that people in the community care about the place they are learning," said Stephen Grieco '99, M.Ed.'02, who headed the project. "This is an exciting opportunity to bridge two communities, Boston College and St. Andrew's, which might not have had a chance to interact otherwise." St. Andrew's provides an education to underprivileged children living in urban areas of Portland.
In New Jersey, alumni from the Philadelphia Chapter participated in the Urban Challenge, a program affiliated with the Romero Center, an urban retreat and social justice education center in the heart of East Camden, New Jersey. Urban Challenge combines volunteer service with reflections on urban poverty and social justice.
"We liked the fact that the Romero Center is a continuous program that combines the retreat experience with some community service," said John Sherlock '87, who organized the event. "There are still many poor people who need help every day. We would like to have more people participate in this program in the future and even go back on their own."
One of BC's newest chapters, the Triangle Chapter, encompassing Raleigh, Durham, and Chapel Hill, North Carolina partnered with the Ronald McDonald House of Durham. A dozen or so alumni and their families worked on a landscaping project, planting flowers and spreading mulch.
By Kevin McLaughlin '78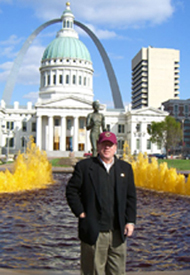 Kevin McLaughlin '78 had a close-up view of the BC hockey team during
its recent appearance in the Frozen
Four in St. Louis.
I'd like to relay a story of my unique experience at the recent Frozen Four Championship in St. Louis. My classmate Jack Stapleton '78, a member of the St. Louis Sports Commission, the group that hosted the Frozen Four, invited me to the tournament and provided me with the ultimate credentials. I couldn't believe my good fortune. I had been granted complete access to the hockey arena and all the events surrounding the Frozen Four.
On Saturday, the day of the championship game, I attended the early morning BC skate-around and practice in an empty and quiet arena. Only two nights prior, 19,000 fans had roared in this very place during our exciting game with the University of North Dakota. I stood alone near the ice wearing a BC hat when, at the end of practice, I looked up and saw a lone figure skating towards me. It was Head Coach Jerry York. "I like your hat," he said to me through the glass while gliding by. Unbelievable! Here was the head coach, who I didn't know and whose team was playing for the NCAA championship that evening, taking a moment to make my Frozen Four more personable.
In the afternoon, I attended Mass at the hotel with the team, parents, Athletic Department, and other alumni and supporters. In the evening, I attended the championship game, the result of which, as we all know, was disappointing. I had spent two days in the company of the BC hockey team – a group of young men notable for the respectful way that they interacted with one another and with the press, and how they represented BC as a university. Knowing the disappointing outcome of last season and now this season, my thoughts after the game were with the team.
In a crowded room, I watched the post-game press conference during which Captain Brian Boyle and Co-Captain Joe Rooney answered question after question on behalf of the team. Brian and Joe were as gracious in defeat as they were in victory two nights prior. One particular question and answer were never reported by the media. The question was something like "Brian, you're an All-American and a first-round draft pick who decided to come back for your senior year after losing in the finals last year. How do you feel after this loss?" The interviewer's implication was that it may not have been worth it. Brian Boyle didn't frame his response from his perspective or that of his team, but rather of his university. His answer was strong and clear: "BC is a special place and we wanted to bring a championship back to our school." I was stunned and proud.
And I couldn't agree more. BC is a special place. We have won and will continue to win NCAA championships, and we have students who have earned and will continue to earn Rhodes and Fulbright scholarships. Of this, I have no doubt. BC is a place where classmates become lifelong friends who look out for one another, and where 30 years later you have unique, unexpected opportunities to attend championship games.