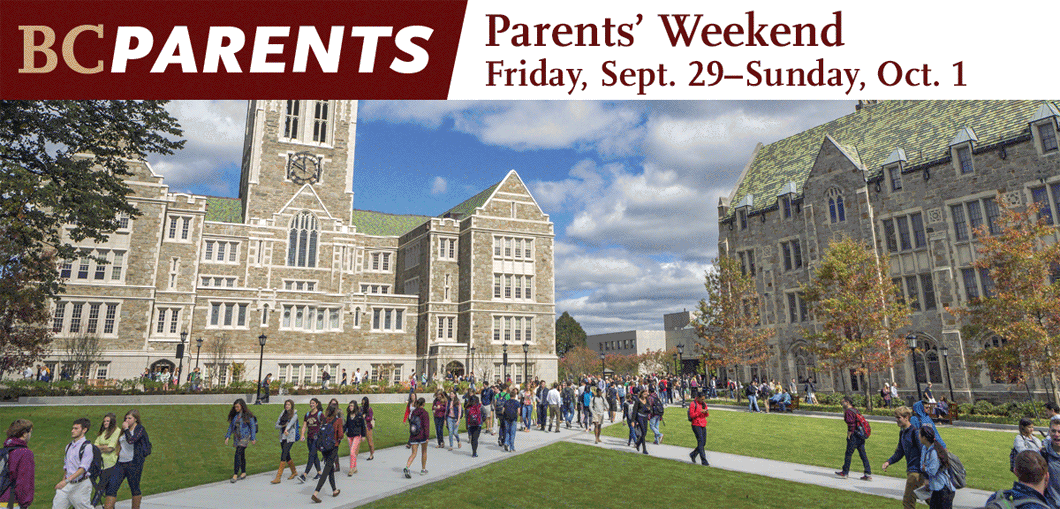 The ultimate weekend for BC families
Parents' Weekend 2017
September 29 – October 1
Mark your calendars for Parents' Weekend 2017! Come join your Boston College student and other parents on Friday, September 29, through Sunday, October 1. Each year, more than 2,000 families attend Parents' Weekend, visiting with their Eagles and getting an inside look at the unique BC experience.
On Friday, parents will join their students in class, attend deans' open houses and faculty presentations, hear from University President William P. Leahy, S.J., and other University leaders, and end the evening at Pops on the Heights: the Barbara and Jim Cleary Scholarship Gala, featuring the Boston Pops Orchestra. Saturday, come to campus in your best maroon and gold to cheer the BC football team to victory, and Sunday, join thousands of parents and students for a family liturgy.
Registration will open in early June. Until then, see photos from Parents' Weekend 2016 in the slideshow below, and a collection of tweets and other posts from Parents' Weekend and Pops on the Heights in this Storify.

Out-of-Town Parents: Please note that hotels fill up quickly, so reservations for Parents' Weekend should be made as soon as possible.
Click here for a list of area hotels.
Parents' Weekend Slideshow
Contact Us
Parents' Weekend Office
Cadigan Alumni Center
140 Commonwealth Avenue
Chestnut Hill, Massachusetts 02467
866-237-1120
email: parentsweekend@bc.edu