Father John McElroy, S.J.
the founding dream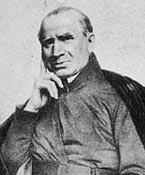 In 1843, John McElroy, S.J., of the Maryland Province of the Society of Jesus, wrote to the Bishop of Boston urging that a Jesuit college be established in the city to serve its Irish immigrant population.
With Boston's public schools becoming increasingly hostile toward Catholics, Fr. McElroy's vision began to take on urgency—and his transfer to Boston in 1847 gave him the opportunity to bring it to life.
Fr. McElroy overcame numerous obstacles in realizing his dream, including the intense anti-Catholic climate that caused several of his offers to purchase land for a Catholic college to be rescinded, and a persistent shortage of funds. Not until July 19, 1863, was he able to write: "On last Thursday was finally concluded the conveyance of all property in my name ... to the Trustees of Boston College. Deo Gratias! I am indeed now a poor man, as a religious ought to be."
Through his efforts, Boston College was chartered by the Commonwealth of Massachusetts on April 1, 1863.